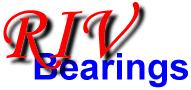 What is the rolling Bearings?

---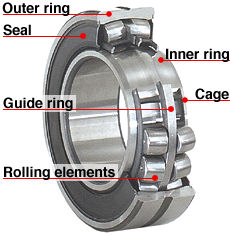 The main function of any rolling Bearing type is the decreasing of friction which could be caused from any elements related rotation, in order to reach the maximum efficiency of the power, which could have been converted from torque power into heat power, so the main function for the bearings is decreasing the "converted to heat" power.
A great variety of rolling bearing types and designs are known, the manifolds of the bearings is justified by their various purpose of application, each type of bearing has a certain characteristic technical properties, rolling bearings have the following advantages compared with the plain bearings:
Low starting moment.
Low friction at all speeds.
Low energy consumption.
High reliability.
Small width.
Low consumption of lubricant.
Long relubrication intervals.
Easy to mount and dismount.
Standardized dimensions.
The following are some of the very common types of bearings, a certain bearing type is chosen in order to make it particularly suitable for the desired applications, however it is not possible to apply general application rules for the selection of any type of bearings, as several factors must be considered and assessed in relation to each other they are all produced by most of the bearings manufacturers:

Deep groove ball bearings

Deep groove ball bearings are simple in construction as well as easy to operate and maintain. They can run at high speeds and can support both radial and axial loads, Furthermore they are robust, versatile and quiet running, deep groove ball bearings are available in single and double row designs. The single row bearings are also available in sealed versions; they are lubricated-for-life and maintenance-free, A wide variety of types and sizes can be supplied, including standard bearings for conventional as well as unconventional applications. The cost/performance ratio for deep groove ball bearings is excellent.
Self aligning ball bearings
Self aligning ball bearings have two rows of balls with a common sphered raceway in the outer ring. This feature gives the bearings their self-aligning property, permitting angular misalignment of the shaft with respect to the housing, self-aligning ball bearings show very low vibration and noise level owing to the high accuracy of form and smoothness of the raceways.
Angular contact ball bearings

Angular contact ball bearings are available in single and double row design as well as four-point contact ball bearings. They are designed for combined loads and provide stiff bearing arrangements, Angular contact ball bearings have raceways in the inner and outer rings which are displaced with respect to each other in the direction of the bearing axis. This means that they are particularly suitable for the accommodation of combined loads, i. e. simultaneously acting radial and axial loads, The benefits are high load carrying capacity and speed capability, low operating temperatures, long relubrication intervals and quiet operation.
Thrust ball bearings
Thrust ball bearings are manufactured in single direction and double direction designs. They are only able to accept axial loads but can be operated at relatively high speeds. The bearings are separable. Mounting is therefore simple as the various bearing components (shaft washer, housing washer, ball and cage thrust assembly) can be installed separately, The benefits of using thrust ball bearings derive from their high running accuracy and high load carrying capacity.
Cylindrical roller bearings

Can carry heavy radial loads at high speeds. Single row EC-design bearings have optimised internal geometry which increases their radial and axial load carrying capacity, reduces their sensitivity to misalignment and facilitates their lubrication. Full complement bearings incorporate the maximum number of rollers and have no cage. They are intended for very heavy loads and moderate speeds.
Needle roller bearings

Low sectional height makes them suitable for limited radial space. Can support heavy radial loads. Wide variety of designs including combined bearings for radial and axial loads providing simple, compact and economic bearing arrangements.
Spherical roller bearings

Robust, self-aligning bearings which are insensitive to angular misalignment. Offer high reliability and long life even under difficult operating conditions. Mounted on adapter or withdrawal sleeves and housed in plummer blocks they present economic bearing arrangements. Also available with seals for maintenance-free operation.
Taper roller bearings
Designed for heavy combined loads. Excellent load carrying capacity/cross section ratios provide economic bearing arrangements. TQ-Line bearings are less sensitive to misalignment and offer long life, high reliability and low operating temperatures. The CL7C design has high running accuracy and low friction torque.
Cylindrical roller thrust bearings
Can carry heavy, single direction axial loads. Stiff and also insensitive to shock loads. Very compact arrangements can be obtained if adjacent components can serve as raceways.




Y-Bearings and Y-Bearing units
Housing and bearing combinations for economic and simple arrangements. Accommodate initial misalignment. Special locking methods allow use on commercial drawn shafts. Standard seal can be reinforced with flingers to protect against moisture and contaminants. The Y-TECH composite housings with a steel coil reinforcement ring are strong, light, form-stable and corrosion resistant.
Track runner bearings

Ready-to-mount bearing units with reinforced outer ring for heavy loads, including shock loads. Bearings with crowned outside diameter can accept misalignment.
Bearing housings
Together with the appropriate bearings these form economic, interchangeable units. Easy to mount and maintain. Wide variety of sizes and designs provides for numerous options of self-aligning arrangements, seals, lubrication methods and monitoring systems.
Plain bearings

Spherical plain bearings can take up oscillating and tilting movements under varying operating and load conditions. Rod ends incorporate spherical plain bearings and have male or female thread. The bearings are available in steel-on-steel and maintenance-free designs. bushings are used where space is extremely limited. They have optimum sliding and lubrication properties and are maintenance-free.
IKO needle roller bearings are high precision bearings with a low sectional height which install needle rollers as the rolling element, the following is the features which are not found in other bearings:


They have a low sectional height and can withstand large loads.
They have a small rotation radius which provides a low rotation torque under equal frictional conditions, improving machinery efficiency.
They are small and light, so they can keep inertia values to a minimum during operations.
Compared with ball bearings, cylindrical roller bearings, etc., these bearings have a large number of rolling elements, the elements being long, so there is a little elastic deformation and high rigidity.
The pitch of their rolling elements is relative small, so it makes these bearings ideally suited to handle oscillating movement.
Caged needle roller bearings are able to withstand operation under severe conditions, such as high rotational speeds.
Compared with metal bushings, these bearings do not produce uneven wear and have an extremely small friction factor of 1/10. Mounting and dismounting are simple and maintenance and protection of bearing accuracy are easy.
They reduce costs and the size and weight of machinery.
Agent : RIV Company
6 Orabi Street,
P.O.Box 101, Cairo 11511, Egypt
Tel. : +202-5749921, +202-5759921
Fax. : +202-5776236, Tlx. : 92808 RIV UN
rivorg@riv.org

Back to Home, RIV, Egypt Bearings Egypt
Stieber .. BackStops & Freewheels
IKO Needle Bearings, Japan
Ball Bearing
Miniature Bearing
American Bearings
Ceramic Bearings
Dental Bearing